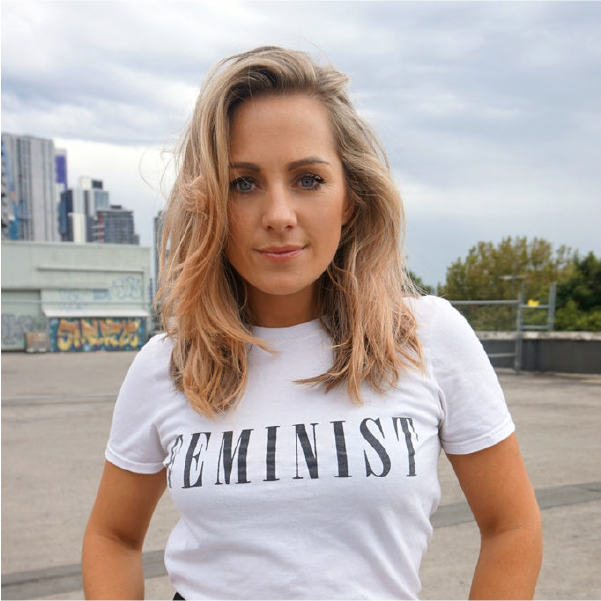 "One of Australia's best and brightest emerging change-makers and social innovators."
Co-Founder, Co-CEO
"Well, what are you going to do about it?". This is what Rosie's Mum would say when she came home from school and reported seeing something horrible in the playground. After finishing high school, Rosie decided she was no longer going to stand by and watch bullying destroy the lives of her peers and she's been honouring that promise by tackling social injustice ever since.
Rosie launched PROJECT ROCKIT with her sister when she was fresh out of high school, and dedicated the last 14 years to growing Australia's youth-driven movement against bullying, hate and prejudice. PROJECT ROCKIT has positively impacted hundreds of thousands of young people and now serves as the go-to youth cyber-safety partner of Google, Instagram, Twitter and Facebook. Rosie is relentlessly passionate about engineering a kinder digital world and serves on the Global Safety Advisory Boards of Facebook, Instagram and Twitter to ensure young people's voices are heard.

Her work has been recognised by UNICEF among the 12 Digital Champions for Children's Rights in the Digital Age and was honoured in Washington D.C. with the International Award for Outstanding Achievement in Cybersafety. As well as a number of local awards and honours (listed below), in 2019, Rosie became a recipient of the Order of Australia Medal, recognising her service to young people and her work against bullying. In 2020, Rosie was named a 2020 Westpac Social Change fellow as one of ten social innovators recognised for their social leadership in Australia.
Rosie is a highly energetic (brace yourselves) and passionate facilitator, keynote speaker and MC. As someone who is dissatisfied with the status quo and impatient for change, Rosie loves helping her audience realise their unique purpose. She is a dynamic and seasoned speaker, having personally presented to over a hundred thousand young people as well as to thousands of grown ups on a range of national, and international, stages.
Rosie is a driver of innovation and is passionate about using business to solve long-standing social problems. In her spare time she acts as a business mentor for local change makers and entrepreneurs.
Awards:
2020 Westpac Social Change Fellow
2018 Order of Australia Medal for service to youth and against bullying
2018 'Driver of Change', INStyle & Audi Women of Style Awards
2017-current Global Inspiring Rare Birds Ambassador
100 Women of Influence, AFR and Westpac 2015
Social Entrepreneur of the Year Award, League of Extraordinary Women, 2015
Young Social Pioneer, FYA, 2015
FOSI Outstanding Achievement in Cybersafety, Washington DC, 2013
Social Entrepreneur of the Year, Melbourne, SSE, 2012
School for Social Entrepreneurs, 2012
Bachelor of Arts, 2011
Boards and Working Groups:
Facebook's Global Youth Advisory Council
Telstra and Inspire's Technology and Wellbeing Roundtable
Braveheart's Research Advisory Panel
Elephant Ed Advisory Board
Aware Project Advisory Board
Federal Working Group for Safety by Design, Office of the eSafety Commissioner